Security
Computer Data Security and Network Security for Businesses Throughout Portland, Vancouver and Beaverton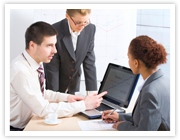 Do You Fully Trust Every Single Employee Not To Accidentally Download A Virus, Malware Or Other Online Threat? "Could my business handle a security breach caused by a stolen flash drive or laptop?" Worried about things like this?
With services to protect your entire business, Computer Data Security and Virus Removal have never been simpler. Our total solutions for Wireless Network Security have helped business like yours in [local-primary] stay safe from the many online threats of today's marketplace.
With security that's built with your business in mind from Computer Cloud Network, you'll get:
Protection from outside threats, with data security management to safeguard you from hackers and viruses.
Vulnerability testing for your company, to create a customized network security solution.
More confidence, with the knowledge that your organization is truly safe from threats.
Our holistic approach to network security means you can truly secure your business and focus on achieving more.
Computer Cloud Network creates tailor-made security solutions that are built around your unique business needs. Serving Portland, Vancouver, Beaverton, Gresham, Hillsboro and Clackamas, we provide Wireless Network Security services you can really count on.
Whether your organization is in need of security consulting, PC protection, intrusion prevention service, data protection, wireless network security, spyware prevention, virus removal, computer data security, wireless protection, Internet security, data security management, or PC & computer security, we have an answer.
Don't risk everything you've worked for. Defend what really matters, with Virus Removal and Computer Data Security that will allow you to rest easy.
Areas Covered
We offer the most dependable Cloud Computing, Hosted Services and Computer Network Support solutions to businesses in the Portland, Vancouver, Beaverton, Gresham, Hillsboro, Clackamas, Milwaukie, Oregon City, Tigard and Tualatin areas.
Our team efficient experts will even visit your organization on-site: Portland Computer Network Support, Vancouver Hosted Services, Beaverton Cloud Computing, Portland Backup and Disaster Recovery, Vancouver Information Technology Consulting, Beaverton Cabling and Office Moves, and Portland Anti-Virus and Security.