IT Consulting Projects
Your trusted IT Consultant and IT Outsourcing for Businesses in Portland, Vancouver and Beaverton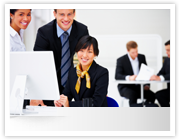 Does Worrying About And Attending To Broken Technology Consume Your Business Day? "What can IT Consulting services do for my business?" Figure it all out, with IT Consulting services.
Computer Cloud Network offers IT Outsourcing and Chief Information Officer Consultant (Virtual CIO) services that make using your technology in Portland, Vancouver and Beaverton more stress-free than you ever thought possible.
Stress-free IT Consulting strategies from Computer Cloud Network include:
Streamlined business processes - our IT Overview includes a diagnosis of your current IT infrastructure and recommendations to improve it.
Holistic IT consulting - IT Installation, trusted vendor products and meticulous planning.
A stronger security foundation - safeguard your business in the event of a disaster with IT Administration.
Our experts can give you the recommendations and advice you need to view your technology in a positive light.
Computer Cloud Network works as an extension of your business, offering Virtual CIO services to help you get ahead. Serving Portland, Vancouver, Beaverton, Gresham, Hillsboro, Clackamas, Milwaukie, Oregon City, Tigard and Tualatin, our IT Consulting Services modernize your business processes with a worry-free approach to using IT.
Whether you need to modernize your business with Virtual CIO (Chief Information Officer) service, IT consulting services, IT outsourcing, computer consultancy, outsourced IT, technical support and IT outsourcing services, network consulting, computer security consultants, or small business server consulting, you can depend on us.
When you don't have to worry about your technology, you can focus on running your business. Get more out of your technology with the expert advice of an IT Consultant.
Areas Covered
We deliver dependable Cloud Computing, Computer Network Support and Hosted Services solutions to businesses throughout the Portland, Vancouver, Beaverton, Gresham, Hillsboro, Clackamas, Milwaukie, Oregon City, Tigard and Tualatin areas.
These local experts will work closely with you or even visit your business on-site: Portland Computer Network Support, Vancouver Hosted Services, Beaverton Cloud Computing, Portland Backup and Disaster Recovery, Vancouver Information Technology Consulting, Beaverton Cabling and Office Moves, and Portland Anti-Virus and Security.