About Us
Currently, We Provide Business IT Support to Clients In These Locations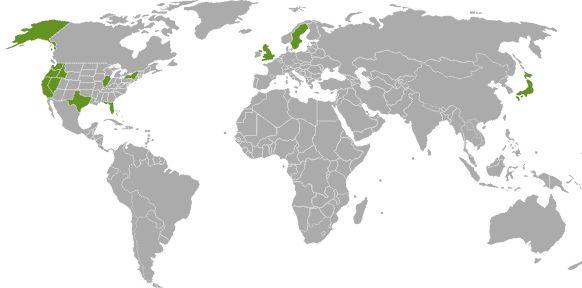 Computer Cloud Network currently manages and supports computer networks in four countries across nine time zones. We install and support computer networks in ALL cities and states of the U.S. If you are outside the U.S., contact us to see if we can work in your country.
Computer Cloud Network installs and supports regular traditional server & pc networks and cloud computing networks.
Computer Cloud Network has been called "The best cloud computing company in the Northwest," by the president of a prominent local tech company who did his homework. Why did he say that? Because of how we work, who we are and what we work with. And because he said he could find no other IT support company or managed service provider who actually owned their own true cloud solution. You see, most of Computer Cloud Network's competitors resell a cloud solution where they are just the middleman who mark it up and sell it, but they've got very little control of it. Not us. We own and operate our own true cloud solution. We have full control of it and even though our backup systems are automated and we have alerts configured to warn us if a backup doesn't work correctly, we have one of our engineers physically check the backups every single morning just to make sure. We guarantee that we will never lose your data and that it won't be compromised in any way. We have the systems in place to prove it.
How We Work
At Computer Cloud Network we believe in the adage that one cannot prescribe a cure until one makes a thorough diagnosis of the situation. To do otherwise is malpractice, isn't it? That's where our Computer Network Audit and Cloud Readiness Assessment come in. These involve our highly trained network engineers and technical support personnel who analyze your hardware, software and perhaps most importantly, your business needs. The CCN technical design committee then digests the information, spotlights problems that can be eliminated and designs a technical solution that is simple, affordable and ultra-efficient. Depending on the size of your company, we can move your company to the cloud in 5 days. Just last month we moved a small client with eight pc's and one server to to our cloud solution in two days. Of course, if your organization has 200 computers and 10 servers, it's going to take us more time. In these situations, it's extremely important to do our due diligence up front to make sure the transition to your new managed network is a smooth one.
What We Work With
Computer Cloud Network's cloud installation is many Dell super computers powered and housed in a bank level secure data center here in the US. The climate controlled data center is accessible only by key cards and is guarded and under surveillance twenty four hours per day. Further security effectively protects the installation and all the data contained therein. The center has backup power generators to prevent an interruption in the flow of information. Six separate internet providers are in position to prevent loss of web access in all but the most extreme circumstances.
With a Computer Cloud Network for your business, you're dealing with the cloud provider, not a middleman simply purveying some other company's cloud offering from who knows where. One of CCN's clients, Van Beek and Company, a highly regarded CPA firm, noted that they would not have gone to the cloud if it had not been directly controlled by Computer Cloud Network. Know your provider and know what they're providing!
Sitting in my truck I sent a $17,000 invoice!

Remote access before was painful, trying to get into our server from outside…just seemed like it lagged a lot. Once we got Computer Cloud Network it's been so helpful. The other day I was sitting in traffic and a customer called me and said, "Hey I need a copy of that invoice". It was past ...Read More
Micky Washburn
Superintendent
ABC Roofing Company