Business Continuity Planning
Reliable Disaster Recovery and Data Backup to Defend Businesses throughout Portland, Vancouver and Beaverton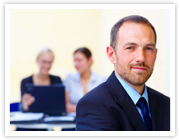 Are You Sick And Tired Of Worrying About Protecting Your Business From Things You Can't Control? "If disaster did strike, can I really count on my data backup system to keep my business up and running?" These are real concerns.
Computer Cloud Network provides reliable Computer Hard Drive Backup and Disaster Recovery to businesses that want to secure themselves from the unforeseeable earthquake, fire, flood or other disaster in Portland, Vancouver and Beaverton.
With Computer Cloud Network as your partner in Business Continuity Planning and Disaster Recovery, we'll help you:
Rely on a rapid recovery with advanced solutions for Data Backup and recovery that will have you up and running again fast in the event of a disaster.
Shield all you've worked for - our Back Up and Recovery plans cover everything from customer data to email.
Stop stressing over things that are out of your hands, with a strong partnership for Business Continuity.
Our proactive approach to Business Continuity Planning can give you the peace of mind to achieve your goals without worry.
Computer Cloud Network has the expert professionals you can rely on to ensure your entire business is safe from disaster. Serving Portland, Vancouver, Beaverton, Gresham, Hillsboro and Clackamas, our data backup and computer hard drive backup solutions are the answer to your backup worries.
Whether you need to protect yourself with Disaster Recovery and Business Continuity Plan, Online Backup, Hard Drive and Data Backup, Computer Backup, Offsite Data Backup and Recovery Services, Hard Drive and Computer Recovery, Data Recovery, Remote Data Backup, or Virtual Data Recovery, we can handle it all.
Don't let a disaster determine the success of your company. Achieve your long-term goals successfully, with Disaster Recovery and Data Backup that works for your business.